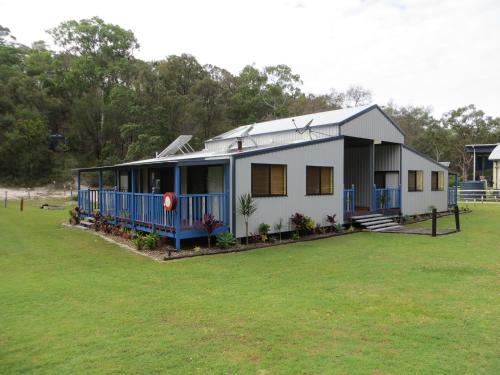 Fraser Island
Looking for a great Australian family adventure or a place just a bit off the beaten track then why not visit Australia's largest sand island, its only 3 hours North of Brisbane and a short ferry ride. Just be warned you will need a SUV or 4x4 vehicle.  
Where is Fraser Island, its about a 3 hour drive North of Brisbane near Rainbow Beach for the Southern Access point or to access Fraser Island at the King Fisher Resort about half way up the island drive on to Hervey Bay. 
These towns both provide Ferry services to Fraser Island, each town has its own appeal and reason for a visit.
Fraser Island is a 4x4 sand adventure to rival very few in Australia. It really is fascinating.
You can be driving along huge white sandy beaches and only a 15 minute drive inland and you are swimming in crystal clear fresh water lakes that have been formed over millions of years. 
I first visited Fraser Island 30 years ago in a beaten up subaru that dragged its ass around every track, back then they were still cutting down the forests and the logging trucks would create deeper ruts. Thankfully they no longer log these amazing tall trees. The forests on Fraser Island are amazing, these tall straight trees, prized for their ability to resist rot are now admired by travelers from all over the world. Even on a hot day it's quite cool in the forest sitting next to a fresh water spring. 
What to do on Fraser Island
Really what not to do, well don't feed the dingo's. don't drive on the beach near high tide. Now the do's
Do try beach fishing, do go driving thru the forests, do swim in a fresh water lake, do try surfing down a sand dune on an esky lid, do drift down a fresh water stream to the ocean, do camp under the stars, do enjoy some time with your family in a very special place.
Where to Stay 
on Fraser Island
Did I mention camping, so many great places to stop and pitch a tent or roll out your swag.
Not into camping or the wife hates sand flies there are now loads of really great accommodation options.
I have tried a few, the Kingfisher Resort is a no brainer, easy comfortable and suitable for wheelchairs, I stayed there with my son, it had good access,great food a nice pool for the kids, also a bar so that Dad could supervise in comfort after another 4x4 adventure.
I have also rented a beach villa right on the surf beach. the house was wheel chair accessible and on low tide the beach was suitable for Jacks wheel chair on the hard packed sand, we just drove the disco from the house to the beach and then unloaded the chair and Jacks fishing rod. Mum could supervise from the Balcony. 
Remember to take you plastic home, and lets keep Fraser Island beautiful for the next generation
IF you do find yourself and the kids bored maybe a eco friendly adventure of beach coming and collect some plastic to dispose of correctly.
---
Feb 11, 20 01:02 AM

How do you clean the worlds Oceans, one beach at a time.

Feb 05, 20 11:37 PM

My Aries Windvane now has a new shiny raymaine S1000 autopilot to steer it when there is no wind. This is an additional backup to my other 2 systems. You guessed it I hate hand steering.

Feb 05, 20 11:33 PM

Learn more about Tin Tin our beautiful 41 Ft Kestaloo Dutch built alloy ketch.